The Best Forex Trading Robot For Automated Trading
FX eTrader is a trading robot that works with most brokers, it is considered by professional traders to be the best trading robot of the moment. It has a very high success rate (almost 93%). Very powerful and easy to use.
This automated trading system is also called Expert Advisor (EA) or algorithmic trading, it automatically executes buy or sell orders according to the trading strategy you have indicated in its settings. It can be applied on Forex, Cryptocurrencies and Stocks, on any pair and any time unit and works 24 hours a day.
This Forex robot has several advantages over manual trading, which requires a considerable investment of time and a significant accumulation of various knowledge.
The purpose of this trading robot is to automate a trading strategy so as not to miss opportunities and to avoid staying all day in front of the chart. It can also be used to quickly backtest a strategy before its implementation.
You want to start trading but you have little time? this trading robot is probably made for you!
Find out how it works in our documentation how to build a trading robot?
How to use FX eTrader ?
Step 1 = Build your trading bot from this page :
Money Management : Risk per trade, Max loss daily, Max profit daily.
Trade Management : Stop loss, Take profit, Trailing mode.
Entry Rules : Sell and Buy signals according to the trend filter.
Mode de trading : Automatic or Manual.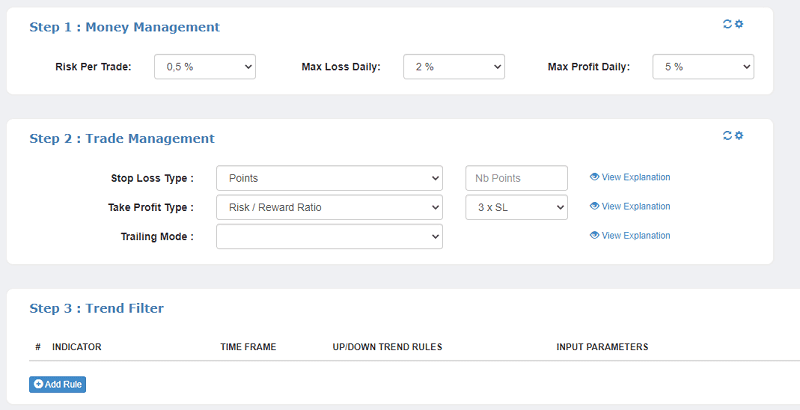 Step 2 = Download the trading bot from this page and install it in your MetaTrader 4 platform:
a) - Click File > Open Data Folder.
b) - Copy the Fx_eTrader.ex4 file into MQL4 > Experts folder.
c) - Restart MetaTrader platform.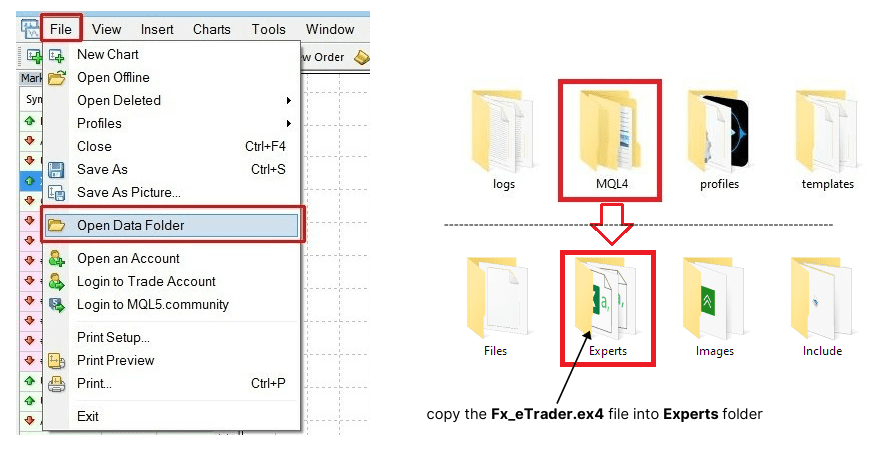 What is the Automatic Trading mode ?
With this, The trading system is fully automated, it analyzes the movements of the financial market and tries to find investment opportunities, it takes care of opening and closing orders according to your trading strategy.
The main advantage of this trading mode is the fact that it saves you time because the Expert Advisor does the speculation for you. The investor only needs to set the risk level and the rules of his trading strategy and voila.
What is Manual Trading mode ?
With this, The trading bot looks for opportunities that match the parameters of your trading strategy and sends you alerts on your mobile when there is a buy or sell signal.
Only the informative analysis part will be programmed, no buy or sell order will be placed.