What is the FX-eTrader automated trading system?
The FX-eTrader platform offers a revolutionary feature for creating trading bots known as Expert Advisors (EAs), without requiring any coding skills.
With this cutting-edge feature, the platform empowers users to design and deploy their custom trading bots seamlessly, utilizing an intuitive visual interface that requires no coding knowledge. This democratizes access to automated trading, as users can now translate their trading ideas and strategies into executable algorithms with unparalleled ease.
In practice, the generated bot is mainly used within the MetaTrader trading platform, one of the most popular platforms for traders, to automate trading strategies and create custom trading algorithms without the need for extensive programming knowledge.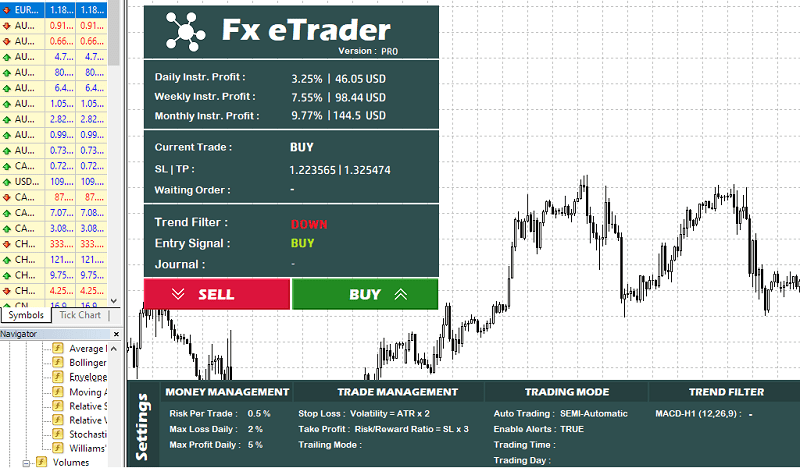 The key features of this trading bot builder include:

Visual Interface: One of the standout features of this bot builder is its user-friendly interface. Traders can create and customize trading strategies through a single, simple form with just a few clicks, by connecting blocks that represent various indicators, conditions, and actions. This eliminates the necessity for coding skills, thus making algorithmic trading accessible to a broader spectrum of traders.
Customizable Indicators and Conditions: This expert advisor builder offers a library of technical indicators, oscillators, and other trading tools that traders can combine and customize to create intricate trading strategies. Traders can define entry and exit conditions, stop-loss and take-profit levels, trailing stops, and more.
Alerts and Notifications: The tool enables traders to receive alerts and notifications when specific trading conditions are met, even if they're not actively logged into their trading platform. This helps traders stay informed about market developments and potential trading opportunities.
Backtesting: Before deploying an EA in real market conditions, traders can backtest their strategies using historical data to evaluate the potential performance and profitability of the strategy.
Export Functionality: Once an EA is built, traders can export it as a file compatible with the MetaTrader platform, allowing them to directly deploy their strategies on a live or demo account.
It's crucial to acknowledge that while our tool simplifies the process of crafting a trading bot, achieving successful algorithmic trading still demands a strong grasp of trading principles, risk management, and market dynamics.
That sounds great! So how do I build a bot?
Thanks to our system, anyone can easily create a bot with just a few clicks. This can be accomplished through a dedicated form by simply clicking on the "Create a new bot" button.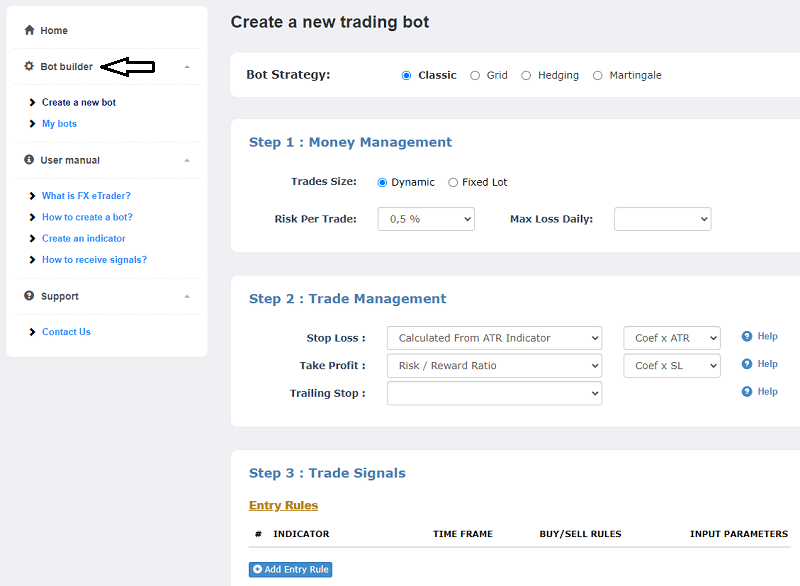 To understand the process of configuring bots using this form, refer to the tutorial titled "How to Create a Bot?"
An example of a bot based on a simple trading strategy: